Characteristics and cost of the first NAS with AMD processors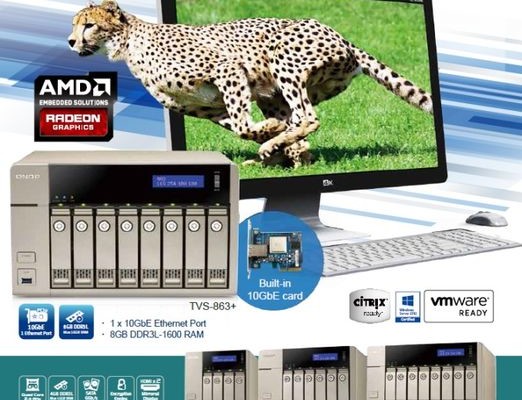 The market is divided between network drives Intel, dominant in the middle and high link devices and platform ARM, represented mainly in the low price range. But in recent months the situation has changed a bit. Firstly, it was presented a NAS Synology DS2015xs, equipped with two 10-Gbps Ethernet ports and is based on the platform of ARM. Second, as we have already reported, AMD finally goes on the market.
AMD Turion platform already present in mikroserverah, for example, HP ProLiant, and now appeared the first NAS processors AMD. They were a family of TVS-x63 from the company QNAP, represented by models with 4, 6 and 8-bay for the HDD, which are equipped with 4 or 8 GB of RAM. A large amount of memory needed to run programs that use the package Virtualization Station.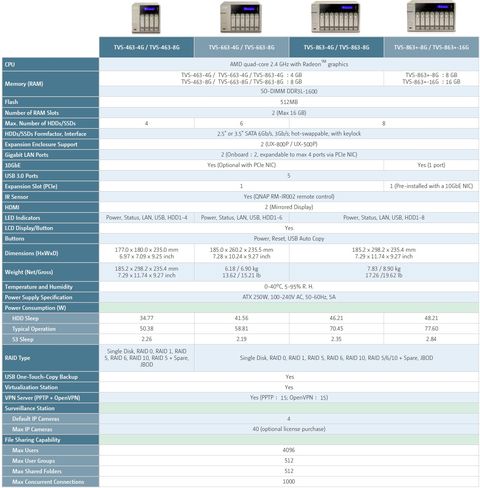 In addition, the older 8-slot model is available in versions marked "+" means that the module is pre-PCIe-expansion port 10GBASE-T, as well as 8 or 16 GB of RAM. All NAS Series TVS-x63 using 28-nm SoC AMD GX-424CC c 4-core processor with 2.4 GHz and graphics cards Radeon. Processor consumes no more than 17.5 watts and supports encryption modes AVX and AES.
Model with 10-Gbps port TVS-863 + -8G will cost $ 1,400, which is pretty cheap for devices that level. Other models will be priced at $ 1,200 per TVS-863-4G, $ 1,000 for TVS-663-4G and $ 800 for TVS-463-4G.
Characteristics and cost of the first NAS with AMD processors
updated:
January 14, 2015
author: