Apple thinks of a dock advanced iPhone and Apple Watch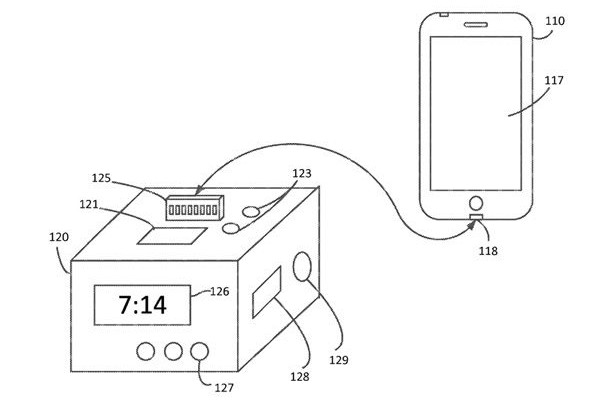 In recent days, the US Patent Office has issued a request filed by Apple, originally in September 2013, which relates to a docking solution for iPhone and iPad that supports various other additional accessories, incorporate a display, a control system based on gesture, wireless communication technologies and magnetic induction charging.
Apple has made in the past and proposed simple supports for iPhone and iPad, but Apple has not yet released an accessory of this type compatible with the latest iPhone 6 or 6 Plus. The patent application could be the starting point of a more evolved, including some features already seen on docking solutions from third parties.
In the patent application made by Apple describes a dock that integrates a display, audio connectors, proximity sensors, a wireless communication system for data transfer and remote control of devices connected to the internet and much more.
Devices connected to the dock to be recharged via a physical connection or through technology induction and can be controlled by buttons or by gesture thanks to the proximity sensors. As descriptions are generic enough, the patent application filed by Apple leaves room for various assumptions, the most interesting of which concerns the possibility of using this dock as the only "center charging" of various devices including, for example, also New Apple Watch.
It is also not excluded the possibility of using the system for the control of other connected devices, also in the field of home automation. Besides Apple is already preparing to entry on the Internet of Things with HomeKit, the iOS framework for control of connected devices via the voice assistant Siri. The dock advanced would also be provided with a series of status LEDs, sensors for the interaction by means of gesture (in a manner similar to Kinect), and possibly also a number of connectors of various standards such as USB, HDMI, DVI, and so on Thunderbolt .
Obviously the request of a patent is not automatically proof of the fact that Apple wants to build a device of this kind, although the simultaneous support of more wearable and portable devices, such as Apple Watch, could meet the needs of a rapidly growing market.
Apple thinks of a dock advanced iPhone and Apple Watch
updated:
March 13, 2015
author: