AeroCool Strike-X Coupe is designed for gaming systems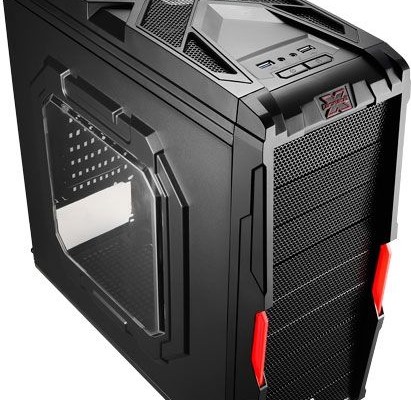 AeroCool unveiled a new computer case Strike-X Coupe to build gaming systems. It is characterized by a rather aggressive design, but at the same time, improved ergonomics of interior decoration and overall strength. The body is made of 0.5 mm steel and painted black.
On the side of AeroCool Strike-X Coupe flaunts acrylic window, and on the front of a stylized letter "X", complete with bright red illumination based on LEDs. Internal carefully designed ergonomics and allows the 400-mm video card and CPU cooler height of 158 millimeters. Under the expansion card is provided for just seven slots, so that the body is very roomy. However, compact call it well, no way. But it climb motherboard standard ATX, but can also be set microATX and mini-ITX, if there is such a desire.
Dimensions AeroCool Strike-X Coupe made 180h460h448 millimeters, and it allows you to install three drives, three 3.5-inch drives and one 2.5-inch SSD. BP, according to today's standards, is mounted at the bottom for better air circulation and ease of installation of iron. To components do not overheat in AeroCool Strike-X Coupe can put three 120-mm cooler, which can be found in the package. Under the cables are special niches and brackets. The cost of housing is unknown.
AeroCool Strike-X Coupe is designed for gaming systems
updated:
April 28, 2015
author: