Review smartwatches ASUS ZenWatch: it must be seen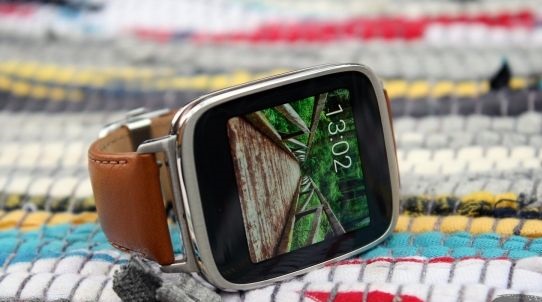 ASUS did not wish to remain aloof from global trends and on the eve of IFA 2014 showed the world its first wearable gadget – smart watches ZenWatch. Those who were lucky enough to pick up the device, mostly were satisfied, the positive feedback especially about the design. And, honestly, they were right
Opens the box – and once you understand that workers ASUS knowingly eat their own bread. None render, no picture can not convey how good a watch. Polished steel and leather, no hint of sport or fitness – ZenWatch WI500Q look expensive. Premium materials, engraving and embossing cry desire to scrutinize the device from all sides. On the one hand strap embossed name of the device on the other – Genuine leather («leather"). Strap on luxury watches is, of course, do not write, but in front of us – cheap watches!
Familiar to all advertising material version – with light brown strap, but sales there are two options – a red-brown and black. Classic for expensive and not very typical for the smart set hours – no polymers or plastics. ZenWatch appropriate to look with a suit with a shirt, or at worst a sweatshirt – T-shirt or sleeveless ask something posportivnee. Body also comes in two colors: silver, gold and pink gold. All this makes the price of the device and double-check, wondering lean back: watch ASUS – perhaps the most cheap deal on Android Wear available today. In Russia, they are not sold in the US and they ask for only $ 200 (excluding taxes), while Moto 360 valued at $ 249, and recently reviewed LG G Watch R sold and all for $ 299. Cheaper only original LG G Watch – for they wanted $ 169.
Faceplate ASUS ZenWatch, framed by stainless steel, closed slightly curved glass Gorilla Glass 3. Underneath hides AMOLED-square matrix with a diagonal of 1.63 inches and a resolution of 320 × 320 pixels (278 PPI). AMOLED for hours – just what you need. The concept of viewing angles to organic light-emitting diodes are not generally applicable by virtue of almost infinite contrast, almost black off – to turn off the pixels are not energized, thus saving energy. In this ASUS skillfully used: in sleep mode, the display shows a simplified diagram of black and white clock and notifications. Battery is consumed less, but, unfortunately, it does not save. The device is equipped with a battery of 1.4 Wh (369 mAh, 3.8 V) and therefore live without charging a couple of days, not more. Well, if you actively use the clock, get ready to put them on a daily charge.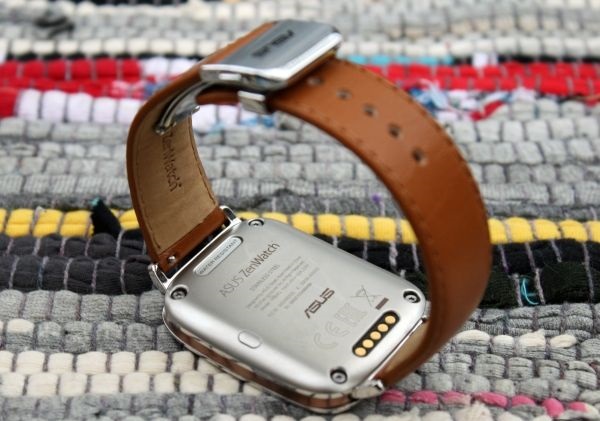 The rest is pretty standard for hardware devices on Android Wear end of 2014 – beginning of 2015: Qualcomm Snapdragon processor 400 with a frequency of 1.2 GHz, 512 MB RAM and 4 GB of internal flash memory. There is Bluetooth 4.0, a compass, a 9-axis gyro sensor, heart rate, and a microphone. Dynamics, GPS or Wi-Fi does not. Of the above deserves special attention sensor, skillfully inscribed in the device designers and engineers.
Not knowing what it looks like a heart rate monitor, find it in the ASUS ZenWatch not work. Sensor is a steel frame front panel: annexing fingers, you can see your heart rate. Of course, the optical sensor is more convenient, but ZenWatch not positioned as a fitness tracker, and to be honest, work out in these hours desire does not arise – afraid to scratch. So that the heart rate monitor is more like a nice addition to the same worn on the wrist gadget now without him ashamed to be on sale. What is really useful, because it is moisture and dust protection. However, here it is not complete: the clock protected by standard IP55, that is not afraid of dust and water jets. But dive or take a bath in them is not necessary – the manufacturer has not promised that it will certainly outlive ZenWatch.
It has been reported that the device developed in close collaboration with Google. In fact, this collaboration has resulted in the use of a slightly extended version of Android Wear, because the interface of Google while I allow it. On the standard features of the OS can be found here , but we consider the exclusive features available only to holders of ZenWatch. At the time of the review unit uses the latest available version of firmware – 1.0.5.1636785, version of the service Google Play – 6.5.90.
The main emphasis Taiwanese do to interact with their original shell ZenUI, which can be found on smartphones ASUS. However, without exception, "chips» ZenWatch can be used on any smartphone, just to Android version 4.3 was higher. The names of these "chips" mostly speak for themselves. Watch Unlock allows you to unlock your phone without a password if the clock is nearby. With Cover to Mute, you can silence the ringing smartphone, covering screen clock hand. In the same way, you can put the device into sleep mode. Find My Phone helps you find your phone if it is within range of the Bluetooth, and Remote Camera turns the clock in the remote camera. Picture-in-real-time transferred to the ZenWatch, which makes an indispensable gadget for lovers of self. To operate Remote Camera must be installed on your smartphone eponymous program, all the other functions become available after installation ZenWatch Manager. With its help, you can run the built-in clock compass, turn them to the screen or weak flashlight to signal SOS. All the same, by the way, can be done without the help of a smartphone, reporting hours a phrase that starts with the traditional "Okay, Google», – it's fun, but not always convenient.
ASUS has added more than 100 hours (!) Dial. Furthermore, additional options can be downloaded from Google Play or create through applications like WatchMaker, which, of course, will allow everyone to find something of their own.
With standard features Android Wear machine copes without any problems, the interface is running smoothly, riveting the attention of "outsiders" – smart watches still look unusual, surprising.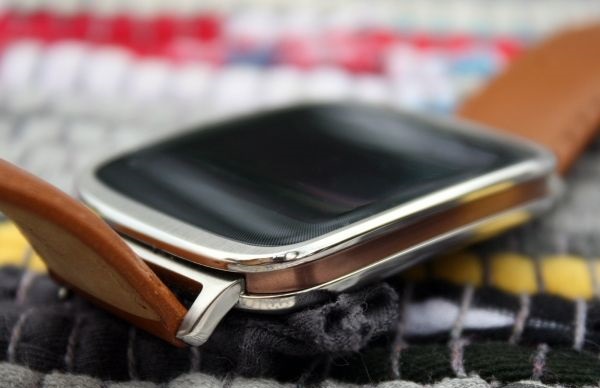 The package, in addition to the gadget comes charging – a small dock. It is not magnetic, just put on the watch behind, connected to pin on their "back". In fact, to charge your device from scratch, you will need approximately two hours. Despite the modest equipment, watches got a very expressive packaging – strict black box looks like it is if the device is not a luxury, it really special at least, not the same as all.And here would like to go back to where we started.
ASUS ZenWatch: Conclusion
Ever since Google introduced Android Wear, many famous brands have got wearable devaysa on this platform. It is understandable – almost all concerned in the production of smart hours anyway cooperate with Google. And the alternative, even a little close in quality, no.It turns out that in choosing between writing their own OSes and a contract with the "Corporation good", even giants like Samsung at the last stop, leaving users iOS and Windows Phone irrelevant. A pity.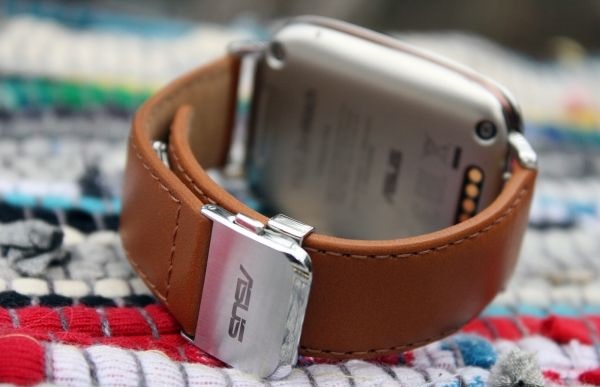 ASUS has released the device, design, quality of materials and workmanship which cause only pleasant emotions. The first attempt at Taiwanese turned not lumpy: Surprisingly, ASUS managed to create perhaps the best to date on the device Android Wear. Yes, the device is not without drawbacks, the main of which – the weak battery. He does not possess the advanced developments and surprises form the screen. But all you need mobile assistant on the wrist, there is. And of course, the price – in America ZenWatch costs $ 199. That's $ 100 cheaper LG G Watch R and $ 50 cheaper Moto 360. For the same $ 199 you can buy except that Samsung Gear Live , Gear 2 or LG G Watch – also quite decent device, but quite different in terms of impressions made by them. The watch Samsung and LG Design sacrificed manufacturability, while ASUS device takes the other – you will be pleased to wear ZenWatch every day, and for such a device is probably the most important thing.
Review smartwatches ASUS ZenWatch: it must be seen
updated:
February 4, 2015
author: