Hard Drives WD Purple NV designed for networked storage in the surveillance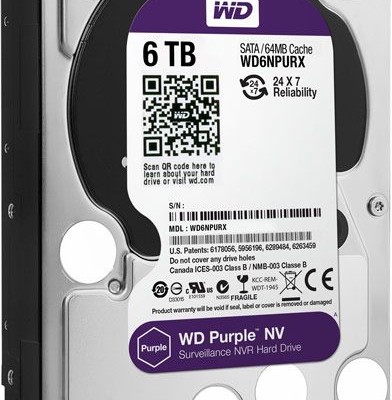 Company WD, a division of Western Digital, introduced drives a hard disk WD Purple NV. These drives size 3.5 inches of 4 and 6 TB are designed for networked storage in the surveillance.
From conventional disks WD Purple new drives are those that are suitable for installation in the chassis for a large number of HDD. In addition, they offer a greater volume and greater reliability, being designed to work around the clock. The advantages include low power drives.
Manufacturer identifies several proprietary designs that have found application in WD Purple NV.
Firstly, a technology AllFrame, which helps reduce the loss of video by optimizing cache management.
Second, technology Premium Protection, which makes storage more resistant to external factors, which is important, given the conditions in which can be operated surveillance system.
Thirdly, the support systems with a large number of cameras. It allows you to deploy lay the groundwork for the expansion of the system and provide the flexibility to increase the number of cameras. In addition, a large amount of storage allows for longer store the video.
Deliveries drives WD Purple NV of 6 TB has already begun. These drives are covered by a three year warranty. Deliveries drives WD Purple NV of 4 TB manufacturer promises to begin before the end of the quarter.
Source: WD
Hard Drives WD Purple NV designed for networked storage in the surveillance
updated:
April 15, 2015
author: