SSD on the market in the lead and will lead the company Samsung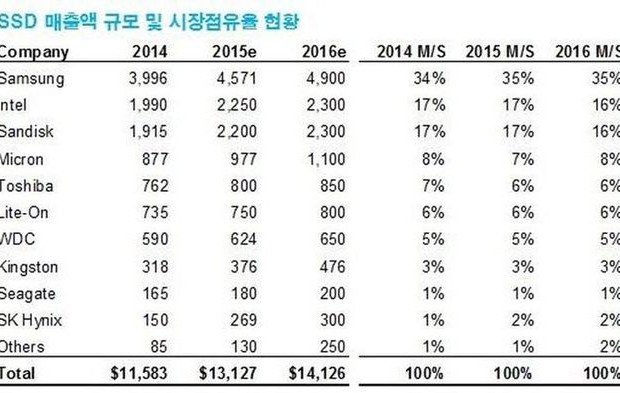 Site ZDNet Korea referring to analyst firm IHS published data on the main players of the SSD market in 2014 and expected data for 2015 and 2016. As can be seen from the table, place on the market SSDs are distributed among dozens of companies and that, characteristically. Market places are fixed, development proceeds smoothly in parallel.
Almost from the very beginning of the mass market leader in the SSD it to Samsung. In 2014, Samsung's revenue in this sector amounted to $ 3.99 billion., And market share – 34%. In 2015 and 2016 the company will strengthen its position just a leader, what will happen due to the transition to the issue of "vertical" flash 3D V-NAND.
The second and third place in the SSD market is owned by Intel and SanDisk. , Micron and Toshiba, that's funny, every two steps below her partner. Apparently – the price of the brand. The company Micron, recall, is a major producer of flash memory for Intel, as well as the Toshiba SanDisk, although formally between each pair of the joint venture.
Also interesting to note that the company Western Digital SSD on the market is much larger than Seagate. Both they hide data on SSDs on the market, as long as focus on the issue of hard drives. In general SSD market is growing every year. Maybe not as fast as many would like, but time after time it becomes larger than that promise lower retail prices for interesting products.
Source: Zdnet
SSD on the market in the lead and will lead the company Samsung
updated:
April 26, 2015
author: