SSD Corsair Force LS holds a terabyte of data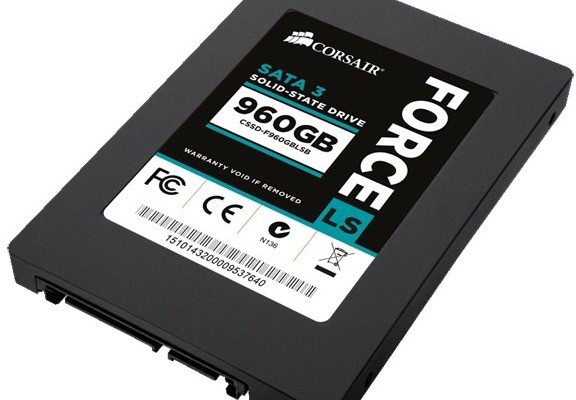 Corsair has introduced a new series of SSD Force LS, capable of storing 960 gigabytes of information. He performed in a standard 2.5-inch format and is suitable for use in nettops and ultra-thin notebooks, as it does not exceed the thickness of 7 mm. The body is made of metal for better heat dissipation.
Along with the 960-gigabyte drive in a series of Corsair Force LS entered and less capacious SSD 480 GB. Its overall characteristics are the same as his older brother, and on the part of high-speed performance, both models are identical. Connecting interface SATA III, they provide data transfer rates of 560 and 540 MB / s for reading and writing, respectively. Their performance is declared at 88,000 IOPS per second, IOPS, which is consistent with the current requirements for devices of this class.
Solid State Drives Corsair Force LS technology support TRIM, which literally extends their life with daily use. MTBF for both SSD is 1 million hours, so that they will work for very long sizes Corsair Force LS made 100h70h7 mm, and weight is not specified by the manufacturer. Device capacity of 960 GB and 480 are 380 and $ 190, respectively, plus the same series have more available models 60, 120 and 240 GB.
SSD Corsair Force LS holds a terabyte of data
updated:
April 18, 2015
author: