Review of smart watch Sony SmartWatch 3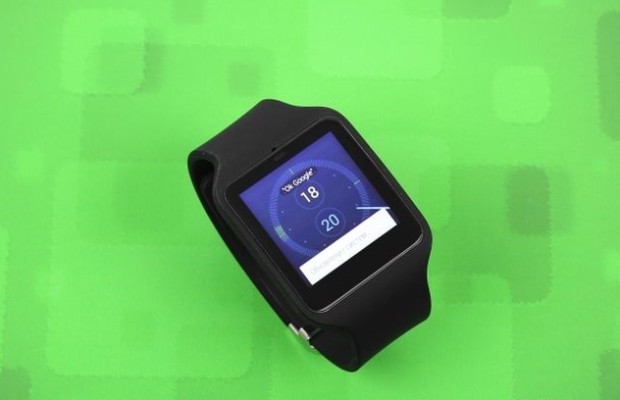 The main feature of the platform Android Wear – its extremely high standards for the usual "freemen Google» unification. Firstly, producers are not allowed to make virtually no change in the software part
By and large, the only modification that is allowed – it's own styles virtual clock face.
The general concept of interface styles all screens except the aforementioned "dial", and even the structure of the menu settings remain the same from one model to another smart hours. We thoroughly describe Android Wear at the time of the official announcement, since the interface of this system has not changed much, except that got a couple nice additions like the output of recently used applications to the top of the menu and a little more sane "vykidushki" main screen. In any case, all received the same and other smart watches for Android Wear.
Not only that, the manufacturers of terminal devices based on Android Wear can not change a program part, they also do not have much scope for action and in terms of modification of the hardware platform. Reference design for Android Wear, proposed by Google, – this chip Qualcomm Snapdragon 400, equipped with a rather excessive for this class of devices quad-core ARM Cortex-A7.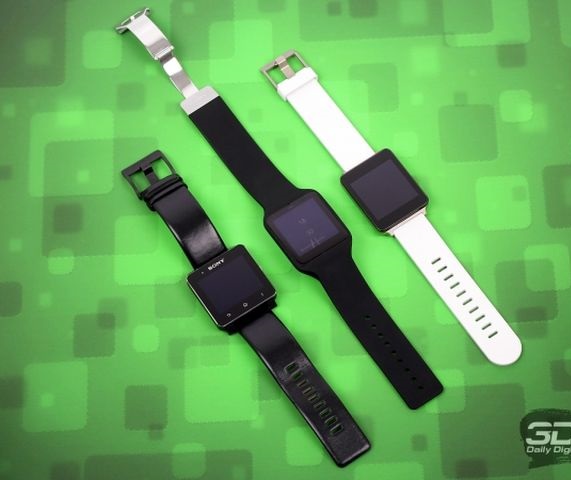 Plus 512 MB of RAM and flash memory 4GB – apparently, it's also part of the standard Google for smart hours Android Wear. At least the other configuration options are rare – comes to mind except that Moto 360 with its OMAP3630 four years ago.
Technical characteristics
LG G Watch (LG-W100)
Sony SmartWatch 3 (SWR50)
Display
1.65-inch, 280 × 280, IPS
Anti-glare filter, oleophobic coating
Capacitive Touch Screen
1.6 inch, 320 × 320, TN
Transflective
Anti-glare filter, oleophobic coating
Capacitive Touch Screen
Cpu
Qualcomm Snapdragon 400 APQ8026: quad-core ARM Cortex-A7 (ARMv7), 1.2 GHz 28 nm process technology LP
Memory
512MB + 4GB flash
Bluetooth
4.0 LE
NFC
No
Yes I Am
Wi-Fi
No
Yes I Am
GPS
No
Yes I Am
Sensors
Accelerometer / gyroscope, magnetometer (digital compass)
Accelerometer / gyroscope, magnetometer (digital compass), light sensor
Microphone and speaker
A microphone; vibration motor
Camera
No
Battery
1.52 Wh (400 mAh, 3.8 V)
1.6 Wh (420 mAh, 3.8 V)
Charging
Through dock connector with micro-USB
Micro-USB connector on the device
Weight
63 g (with strap)
74 g (with strap)
Protection from dust and water
IP67
IP68
Strap
Replacement width 22 mm
Removable own standard
Operating system
Android Wear (Android 5.0.1W)
Compatibility
Any smart phones get an update to Android 4.3 or higher
Recommended price
7990 rubles
8990 rubles
What remains to producers of end devices to stand out? Is that experiment with design and a little – with form-factors. Motorola and LG have done round the clock. Samsung has tried to continue in their own direction "chasostroeniya."
The same could be expected from Sony – after all, this company has done in his time the first intelligent clock in the form approached to modern. Some tradition in this area of ​​activity, the Japanese had already accumulated. However, these developments are poorly compatible with the unification platform Wear and general direction of its development. Obviously, so Sony decided that generally easier to develop a device from scratch – without any continuity with previous generations.
Actually, the only thing that unites Sony SmartWatch 3 with the previous model, Smart Watch-you-don't-believe-2 – is a transflective display. The image is nice to be seen in natural light, allowing you to not turn on the backlight unnecessarily. However, not everything is so rosy: the image quality is slightly lower than that of the LG G Watch.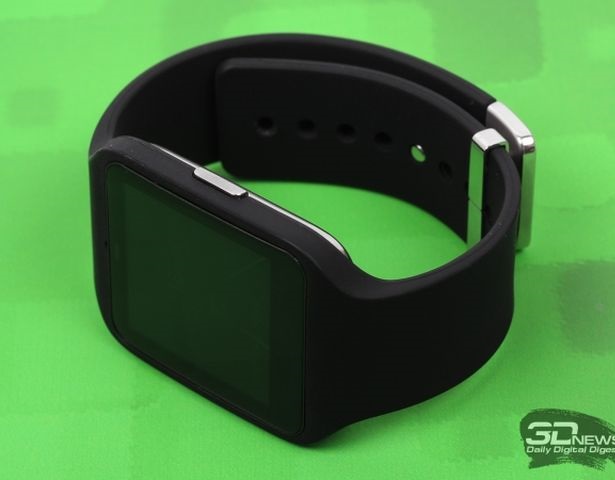 Matrix, as we understand it, is of type TN, and for this type of display quality is quite – quite colorful and contrasty. Still, the typical lack of not going anywhere: the image noticeably fade under the viewing angles larger than 30 degrees. Not that it was a real problem – the display is always readable. But the eyes of modern man has become accustomed to more advanced technologies, providing higher quality images – and in this sense the screen SmartWatch 3 looks a little … bednovato or something.
As for the design, the Sony invented for his new watch bracelet rather complex shape. Its front part is a rigid frame (inside there is insert – probably made of metal), and the very clever part is made in the form of "pills" which is inserted into said frame.
The materials difficult to find fault with: front panel clock is completely covered with glass figure – with a little smooth edges. Of course, the oleophobic coating and a good anti-glare attached. The rear panel of the case – the metal. That part of it which is directly adjacent to the hand made matt, more pleasant to the touch, and the side portions zapolirovat. Velvety surface bracelet – but tactile sensations LG G Watch strap and bracelet Sony SmartBand first generation we liked more, this time the Japanese got a little rough.
Unlike LG smart watches , which are supposed to be charged with the help of not always convenient docking stations, SmartWatch 3 has a built-connector micro-USB. He is not very conveniently located, but the closed cap would lead to a complete dust protection. Of course, like all top device Sony, smart watches are not afraid of water – declared level of protection IP68.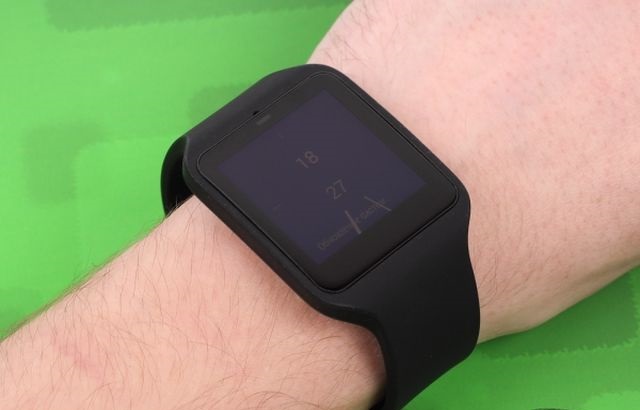 Connector on the body is very useful, because they work smart watches Sony unexpectedly long: in normal medium-intensive use of the battery is depleted in 2.5 days. Ideally, it is better to charge every other night – and if you for some reason you forget to do this, a standard connector just helps: charge can be any charge, without hardship.
Micro-USB connector is hidden under a flap
Watches are endowed with the support of GPS. However, not so easy to find yourself a scenario in which the built-in clock navigation module is used. It is quite logical assumption that the GPS clock can be used in "native" applications for the device – Google Fit and Sony Lifelog or navigation / maps Google – is incorrect. It is necessary to disable the GPS-module in the smartphone – and all these programs no longer receive the coordinates.
As it turned out, the application must be specially trained to work with the built-in navigation module SmartWatch 3. And with Sony Google themselves until their program for some reason is not adapted. But there are a few trackers from third-party developers who already know how to work with new functionality. For example, RunKeeper in the latest version, which we have used.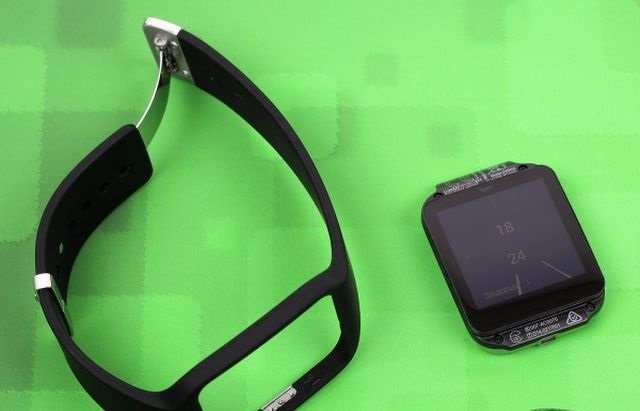 It's hard to say how useful in practice the ability to build a track jogging or walking. But many people like it – and they probably will like the fact that the smartphone can now be safely leave the house and go to the street light, with only some hours. The coordinates are not perfectly accurate (watch can receive data from the satellites – without specifying additives like Wi-Fi or cellular networks), but for the purposes of data accuracy is quite acceptable.
The only thing worth remembering: hours need some time out to start the determination of the coordinates. It is because of this starting point in the screenshots is different from the finish point for a couple of hundred meters. So if you want to get a full track – before driving should stand on the site of a minute or two.
More good news: Sony clock able to play music on the connected thereto Bluetooth-headset. Which again will be useful for runners.However, there has not been without rough edges with the software. According to rumors, the audio tracks on the watch can be filled with the help of Google Play Music, but we did not manage to figure out how to do it. Sony smartphone owners can use the built-in player – the latest version of the Walkman application is able to work with intelligent clock. But the rest will have to think of something – in the Google Play app Walkman available.
Also worth bearing in mind that the built-in tracker and built-in player rather quickly devastate not particularly capacious battery hours.Thus, GPS hour consumes about 15% of the battery (in this case for a complete discharge of 100% to 0 took a little less than 6 hours). If we add to this the music playback via Bluetooth, the flow rate will increase by 10% per hour – after a two-hour walk test battery is discharged from 100 to 50%. So if you use this pair of functions, the charge will have to watch every day, and even more often.
Let us summarize. As already mentioned in the beginning of the review, the choice of smart hours on the platform Android Wear buyer actually chooses from nearly identical devices with different designs and slight variations functionality. In this case, the first all good – the design was a success. Especially look presentable SmartWatch 3 with metal bracelet , presented at CES.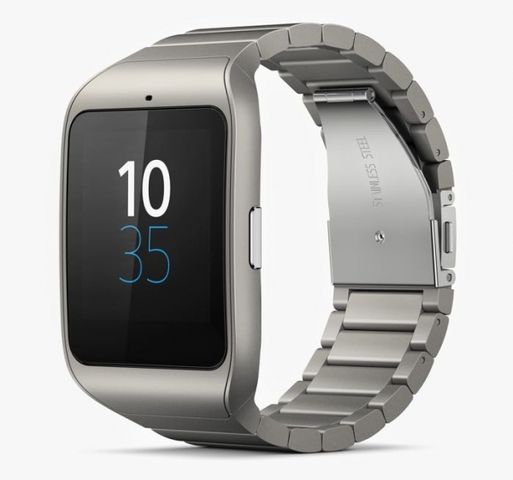 The second – functionality – it's not so simple. In the red faded display and not too impressive battery life. In the pros – integrated GPS-module and the ability to play music directly to a Bluetooth-headset. True (again about minus) software implementation GPS-tracker and player limps and battery with their active use gets quite quickly.
Review of smart watch Sony SmartWatch 3
updated:
January 21, 2015
author: