Processor AMD A10-7870K (Godavari): the price of the game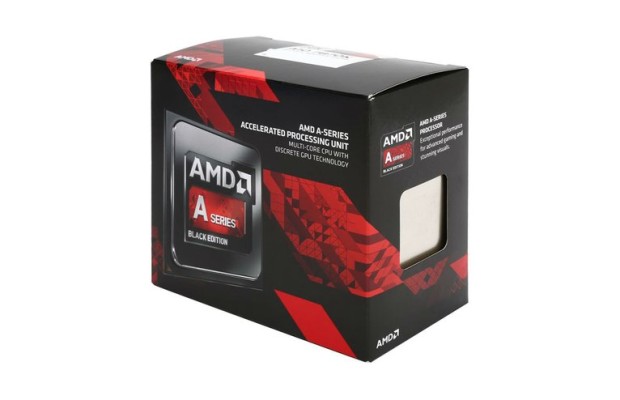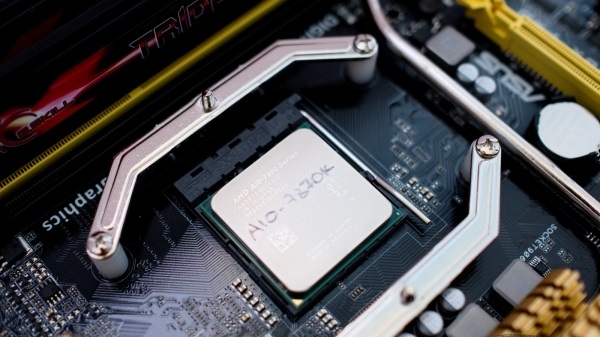 AMD company did not renew its range of APU due to their transfer to the Carrizo design, but instead created a processor Godavari, which actually should be called Kaveri Refresh.
Despite the fact that Carrizo and Godavari are launched almost simultaneously, the differences between them are fundamental. And not only that Carrizo is a mobile design and Godavari – a desktop one. While Carrizo incorporates all the latest developments of the company, Godavari is the only version of last year's updated Kaveri, a sort of Kaveri Refresh, if you use Intel's terminology. And it happened not because of any particular animosity of AMD developers to traditional desktop computers, but because when creating Carrizo energy efficiency has been given too much attention. For the production of such chips, a special 28-nm technology process with increased transistor density was introduced, which does not allow clocking at frequencies above 3.4 GHz. It is understood that it is almost impossible for the processor with such characteristics to interest desktop users, so AMD offered for that audience not fully new items, but slightly updated old friends based on the microarchitecture of Steamroller and use graphic core of GCN 1.1 class, but have a more solid frequencies that extend, up to 4.1 GHz.
More details on AMD A10-7870K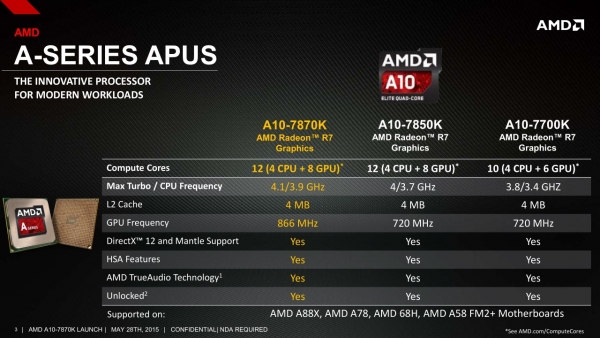 Thus, neither the overall architecture, nor the structure of the CPU and the GPU at AMD A10-7870K compared with A10-7850K have not changed. Most importantly, the novelty, named after India's second largest river, – increased frequency. Compiled on the basis of two Steamroller modules quad A10-7870K has a nominal frequency of 3.9 GHz, and Turbo Core technology can overclock it at partial load up to 4.1 GHz. It's on 200 and 100 MHz, respectively, better performance in the original older processor family Kaveri. However, this rate is still not impressive: the new Godavari failed to overtake the hybrid processor of Richland family sample of 2013, which reached approximately 400 MHz higher frequency. In specific productivity Kaveri (and, therefore, Godavari) difference from Richland is extremely small, so, oddly enough, AMD still can not beat his own record set two years ago.
At the same time, parts of the integrated graphics Godavari made an undeniable leap. Graphics core of Radeon R7 series embedded in this APU, belonging to the class Volcanic Islands and featuring a 512 actuators, received frequency of 866 MHz, which is 20 percent higher than the frequency of the graphics core in A10-7850K. And it made A10-7870K a first hybrid processor of AMD having a capacity of more than teraflops. Besides, it is worth recalling that the achievement of a performance was already promised in the original Kaveri, but in fact AMD took an extra year for the implementation of the original plan.

In addition to the frequency characteristics of the Godavari have nothing new. Therefore, all we knew about the Kaveri equally can be extended to A10-7870K. For example, the integrated graphics core of the CPU using Dual Graphics technology can mate in CrossfireX-bundles with different video cards Radeon R7. And as the most favorable option provides the greatest productivity gains, AMD continues to recommend Radeon R7 250 with DDR3-memory.
The properties of the memory controller did not change in A10-7870K. Officially, it supports dual-channel DDR3-memory with speeds up to DDR3-2133, but also there is an undocumented feature of exploitation of the APU with DDR3-2400 SDRAM. By the way, the memory controller of AMD hybrid works best with two-range modules, and this feature should be borne in mind.
It is quite natural that the new A10-7870K is fully compatible with the entire fleet based on AMD A88X/A78/A68H/A58 chipset of motherboards after updating the BIOS. Some manufacturers have decided to coincide release of new versions of their motherboards with the appearance of A10-7870K for Socket FM2 +, but it does not mean that the old board will not operate with this processor.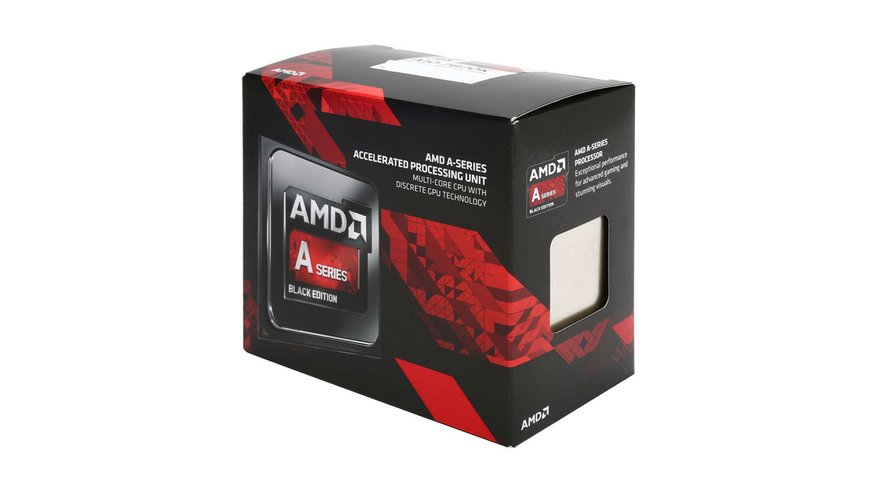 Processor AMD A10-7870K (Godavari): the price of the game
updated:
October 23, 2015
author: