Power Supply Corsair RM850i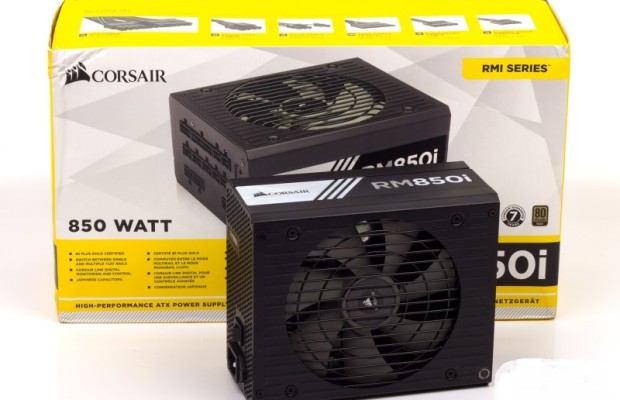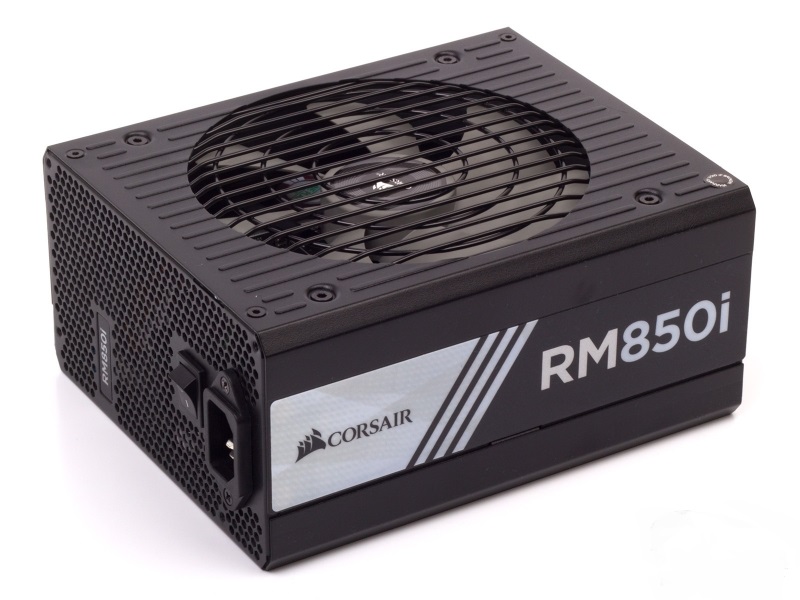 Lines RM, RMi around the abundant of power supply which are produced by Corsair, are the golden mean. However, by the standards of the Corsair, it still belongs to the highest category among all the computer power supply, which can be found on sale. Power supply units Corsair RM/RMi compliant with 80 PLUS Gold standard, and the connection cables they have is entirely modular. At low load, the PSU is satisfied with passive cooling, completely stopping the fan.
A model with the letter i in the title have several additional advantages over the others:
7 years of guarantee – 2 years more;
interface support Corsair Link;
fan on hydrodynamic bearings instead of rolling bearings;
only Japanese capacitors;
working at full power at 50 ° C, instead of 40 ° C.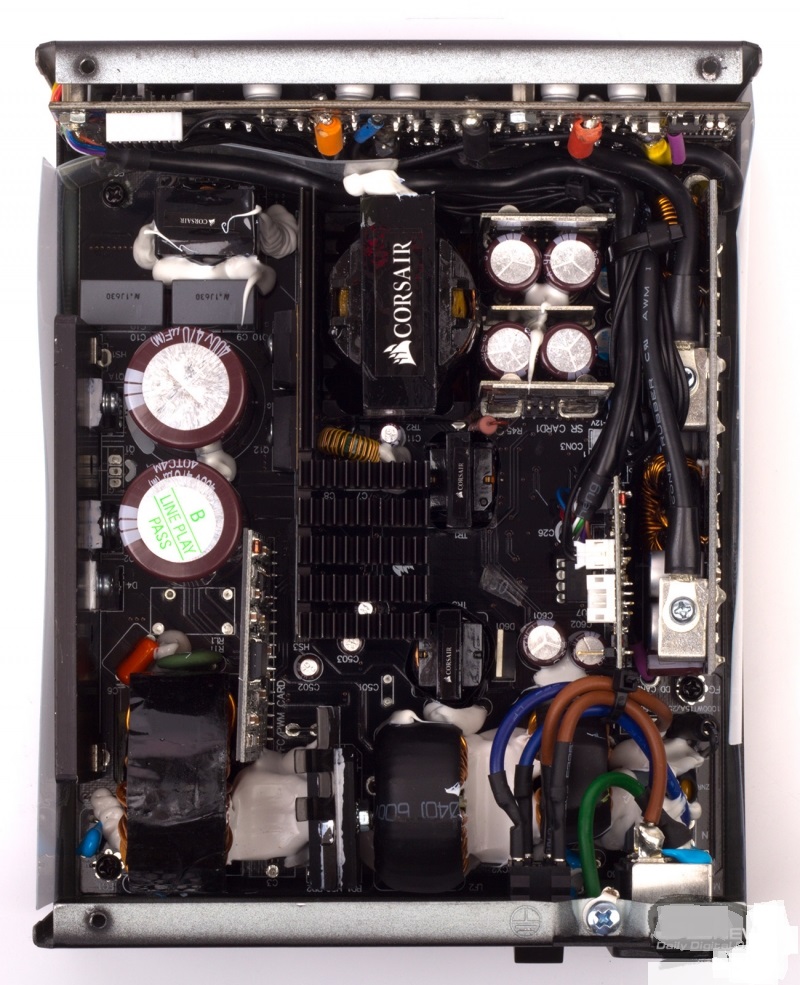 PSs Corsair RMi are available in configurations for 650, 750, 850 and 1000 Watts. Among them, we have chosen the third model in seniority, having nominal value of 850 watts. Corsair RM850i has one physical line of 12 Watt through which is ready to give its full capacity, although using a Corsair Link software, you can create up to seven "virtual" lines with different restrictions on the maximum current.
Set of power connectors:
1 × 24 (20+4) contacts;
2 × EPS12V (2 × ATX12V) – supply CPU;
6 × 8 (6+2) contacts – additional power for PCIe boards;
10 × SATA;
8 × Molex;
2 × Floppy;
1 × Corsair Link.
Design
Family RM/RMi inherited a corporate design of power supplies Corsair – body is heavy and durable. Cheaper series by this company look much easier.
Corsair Link Interface allows control voltages and currents by the sensors in the power supply. To connect to the motherboard on the case has a standard Mini USB connector. Button near performs a questionable utility function – test the built-in fan.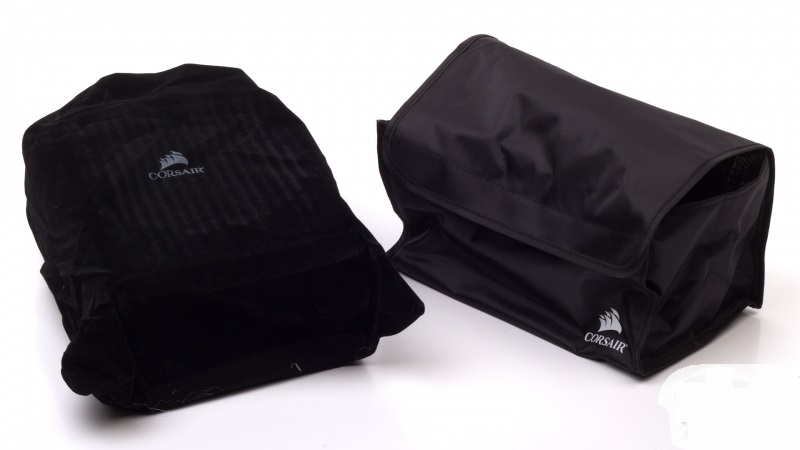 Internals
PSU is cooled by a fan Corsair NR135P with size of 135 mm in the hydrodynamic bearings.
The main filling is made by Channel Well Technologies (CWT).
Input EMI filter includes 3 pairs of capacitors CY, 2 pieces of CX and two common mode chokes. To protect against voltage surges using zener diode.
The topology of the main converter is a resonant Full Bridge option. The secondary circuit uses a synchronous rectifier. 12 V with a single transformer secondary winding is converted into 3,3 and 5 by DC-DC-converters. The combination of these solutions is what makes the most efficient power supplys among all that can be found on sale today.
To smooth fluctuations in the output of the PSU uses solid capacitors and electrolytic condensers by Nippon Chemi-Con. Some of them are soldered directly on the daughter board to which the cables are connected.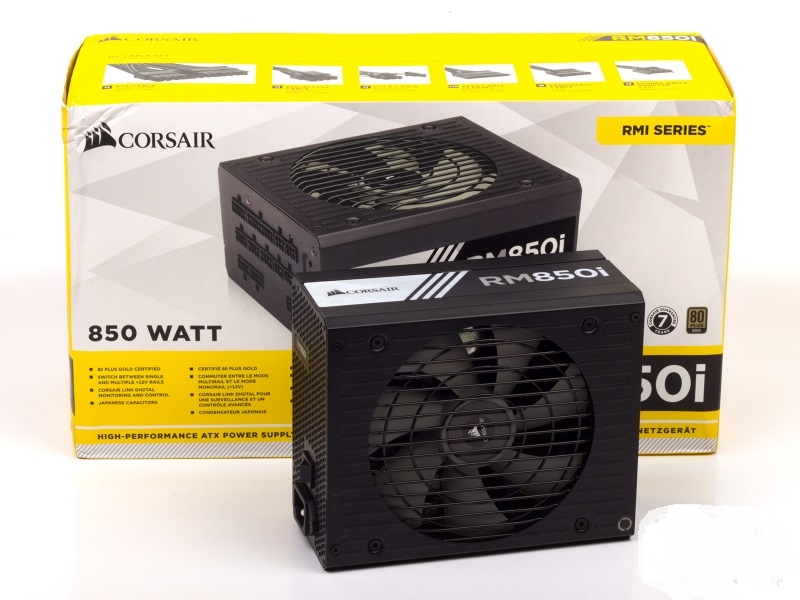 Power Supply Corsair RM850i
updated:
October 21, 2015
author: