MFP Xerox WorkCentre 3225DNI: office budget sprinter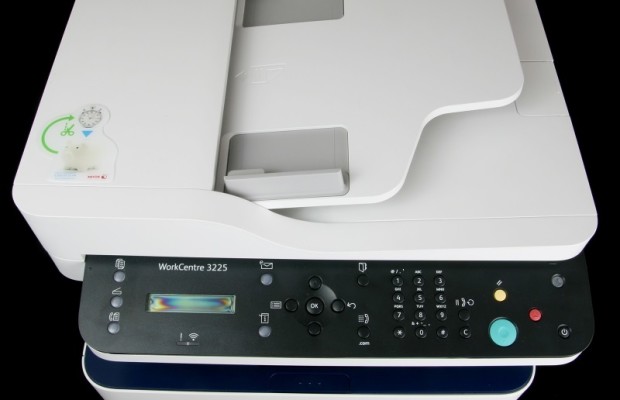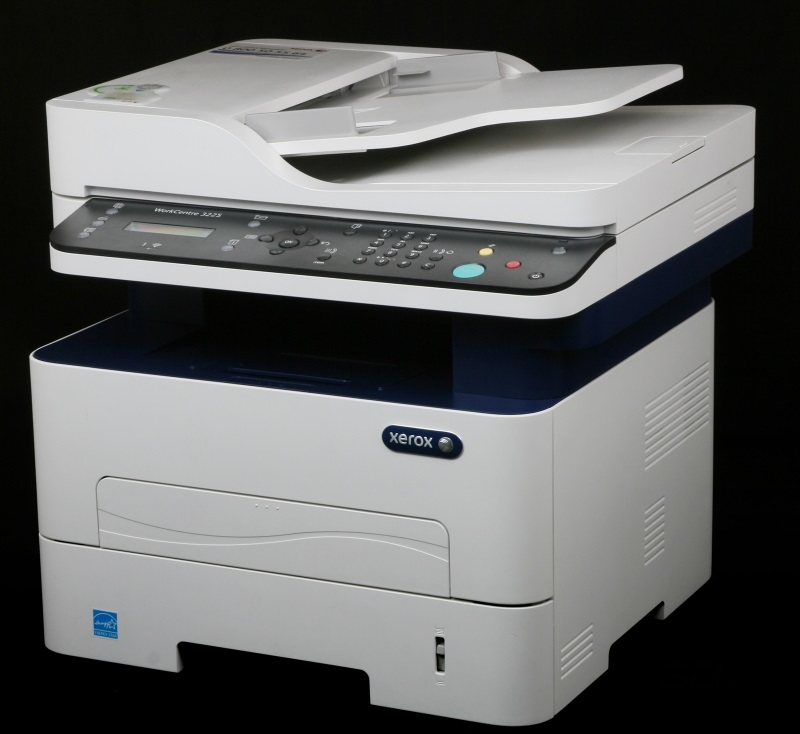 Modern office MFP is not only a printer, copier, fax and scanner, but certainly rich networking capabilities. This time we have got MFP Xerox WorkCentre 3225DNI, which is able to operate independently from the PC, send e-mail messages and interact with a variety of cloud services. And all this – for a very reasonable price.
To get started, let's quickly draw up a general portrait. So, we have MFP for a small office. Moreover, developers tried to stuff Xerox WorkCentre 3225DNI to the maximum: it has Wi-Fi and the Ethernet, there are double-sided printing, faxing, and the ability to print very, very fast. Well, the sketch of the portrait is ready – you can safely move on to the technical characteristics.
As the desktop model Xerox WorkCentre 3225DNI is not too small, but when you consider the possibility of two-sided printing, as well as the relatively high printing speed (still 28 A4 pages per minute – this is serious), the size and weight does not seem so huge. Body angles are smoothed, but the unit still looks as an office one, not a home. In decor prevails white plastic, but there are dark spots – dark blue output tray and black control panel. The latter, by the way, could have been made, for example, of gray plastic, as on black one every speck of dust is visible, which is why one has to wipe the panel constantly. The device is not that lightweight, furthermore, handles-notches are at the very bottom, so they are not always convenient – if you move the MFP, sometimes you have to grasp at the scanner module tabs.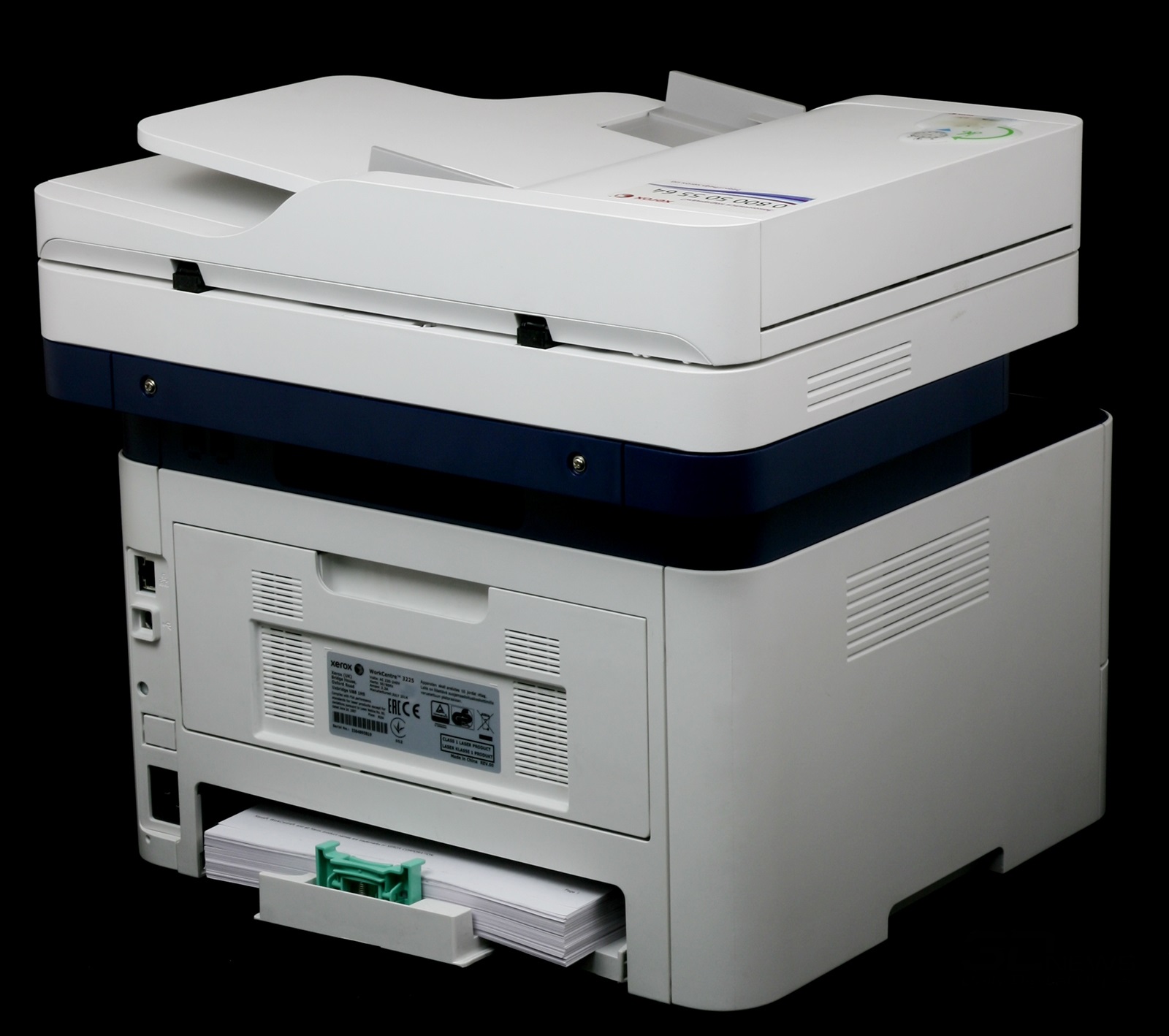 By the way, it is not only the scanner unit to protrude. On the back part, the paper tray sticks out, moreover, it is not covered (often in such cases, the producers set the translucent cover). In general, it is not clear why the base had to be made smaller than the scanner module, because, still, in the bottom the body turns wider, so that the place could not be saved, and the paper tray as a result is not protected from debris.
Above is the scanner module with automatic document feeder and the control panel. Panel is complemented with a two-line segment LCD display, which, unfortunately, is devoid of illumination, so working in low light is quite difficult. Sleep mode key and the operating mode selection keys (sending e-mail, copier, scanner, fax, and output) are shining very brightly that would be a disadvantage for a home device – at night they significantly illuminate the surrounding area, but it is a dignity to the office device.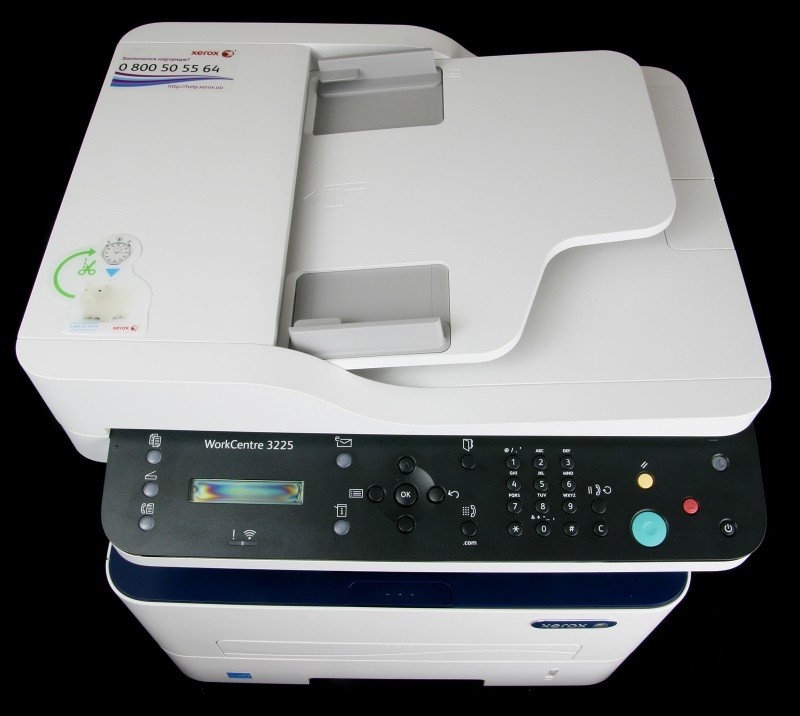 MFP Xerox WorkCentre 3225DNI: office budget sprinter
updated:
March 7, 2016
author: