Memory modules Kingston HyperX Savage DDR3 (HX318C9SRK4/32 and HX324C11SRK4/32)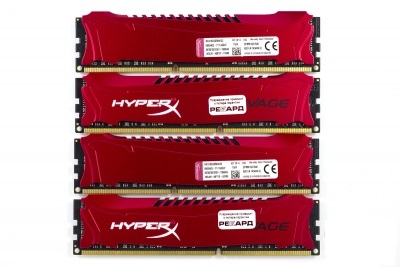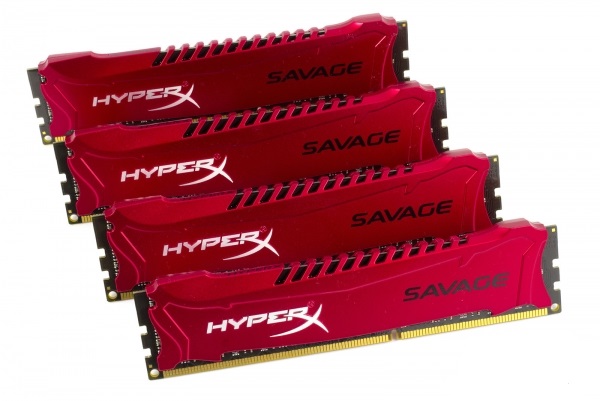 The new memory standard DDR4 begins to flood the market, but good old DDR3 SDRAM is not intend to surrender its positions. Especially as the leading manufacturers of memory for enthusiasts have a very interesting proposals that could engender doubts about the timeliness of the transition from DDR3 to DDR4.
Memory of DDR4 SDRAM standard came to personal computers about a year ago. But despite this, it has not won a huge popularity yet, as until recently, there was only a single platform, with its support – LGA2011-3. It is clear that such a premium high-performance platform could be a good conductor of new technology to the mass market. But now, it seems, the introduction of DDR4 for PC should go cheerfully – it should by accelerated by Skylake-S processors and LGA1151 platform. Nevertheless, it's too early to say that it is time to write off the DDR3-memory. And it's not so much the fact that during the years of its domination in the market, DDR3 SDRAM managed to win a huge ecological niche. Much more important, that at this stage DDR4 technology does not allow modern desktop systems to show indisputable performance advantages. Though the frequency of the new memory is already beginning to go over the horizon determined by DDR3, it has almost no effect at the final performance, and the price of DDR4 SDRAM modules with high-speed performance is not conducive to their widespread dissemination.

High-Performance Memory Kits Kingston, sold under the brand HyperX, form several fundamentally different lines. The fastest modules are a part of a Predator family, and the most accessible – a family of Fury. Savage in this classification is the middle ground – memory kits with sufficiently high speed performance, but with quite an affordable cost. If you are somewhat familiar with the nomenclature of HyperX memory, the best thing about the essence of HyperX Savage DDR3 will be said by the fact they have replaced the family of HyperX Genesis modules. In other words, HyperX Savage is quite a overclocker memory, but not for the records: it should become a "workhorse" in systems where acceleration is practiced on a regular basis. Consequently HyperX Savage DDR3 kits may have a nameplate frequency which reaches 2400 MHz, and their total capacity can reach up to 32 GB.
By the way, an interesting fact. While the lines Predator and Fury, initially formed of modules DDR3, were later expanded for DDR4 SDRAM too, memory series HyperX Savage yet retains its "ethnic purity" and includes only sets of DDR3. In addition, the DDR3 modules of Savage family have other characteristics. Thus, they maintain profiles XMP 1.3, not present in Fury series. And proprietary technology of simplified configuration of Plug and Play, on the other hand, in this case, is not implemented.
HyperX Savage also stand out for its appearance. In contrast to the Fury series, they do not offer a choice in colors: their heat spreader is entirely painted with red lacquer, which gives a smooth, but not glossy texture. It must be said that in this case the memory modules Savage manage to look very impressive and in some cases even brutal. The impression is achieved through increased one and a half millimeters thick cast aluminum heat dissipating plates and the presence of a number of cuts on their sloping ridge, through which can be seen a black printed circuit board. With this, appearance of HyperX Savage has certain elegance. From the front radiators have a difficult asymmetrical shape, bear the shiny convex HyperX logo and inscription: Savage performed in black paint.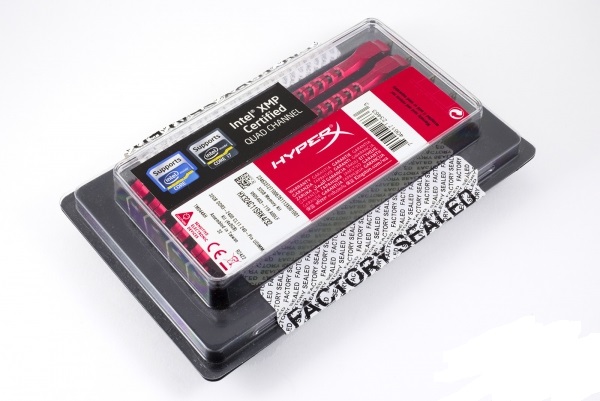 We can not fail to praise the HyperX Savage modules for the fact that their assembly height does not exceed 33 mm. Radiators hardly increase the size of the modules in height, which means that when they are installed in the computers using massive air coolers of Duplex Tower type, no problems should arise. This is a significant advantage of the Kingston HyperX Savage to many other overlockers' modules, including Predator series entering into a flagship.
32 GB Kingston HyperX Savage DDR3 kits come in a plastic box with a transparent cover, in which modules are located not flat but upright. In addition to the four bars of memory, supply includes a concise user guide and promotional stickers for the body. The packaging has the sticker on passed Intel XMP certification and information label with part number and main characteristics of the set.
As for the chips, they formally belong to the DDR3L-1600 class, that is designed to operate at a voltage of 1.35 V. Therefore, it is not surprising that in overclocking modules with an increased supply voltage, they are able to work in a much more high-speed mode. Actually, these chips are used in a variety of memory kits for enthusiasts often enough. But there are two features. Firstly, they are poorly dispersed on 2400 MHz, and, secondly, their stable operation at high frequencies requires more delay of tRP (RAS # PRE Time).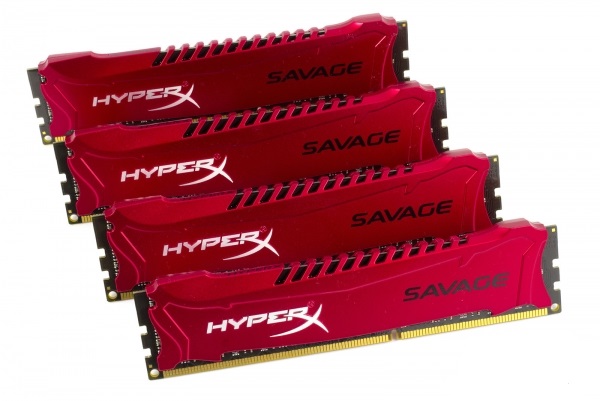 Memory modules Kingston HyperX Savage DDR3 (HX318C9SRK4/32 and HX324C11SRK4/32)
updated:
October 26, 2015
author: