Intel Skylake: preliminary data on the speed of processor

We have already studied the range of desktop processors Intel Skylake in LGA 1151, and visitors can get acquainted with the characteristics compatible motherboard by a Chinese company Colorful, who devoted his colleagues note from the site WCCFTech. However, the more interesting material on a related topic was published by the Turkish resource PC FRM More last week – the source claims that have data about the test results Core i7-6700K processor generation Skylake.
To start worth recalling what characteristics will have this processor. Four processing cores with Hyper-Threading support will operate at frequencies of 4.0 / 4.2 GHz, while remaining within the heat pack 95 watts. Cache volume will remain the same (8 MB), overclock the CPU will be using the free multiplier. The memory controller can operate with two-channel DDR3L-1600 or DDR4-2133, and only from the manufacturer of the motherboard will depend on what type of memory is used.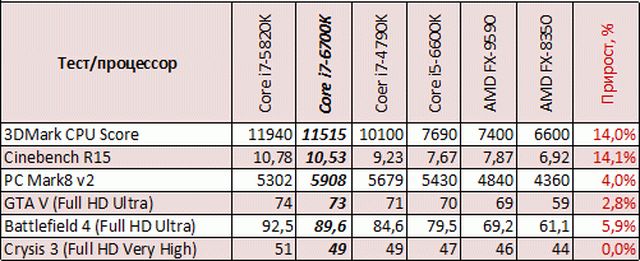 We combined Uploaded Turkish sources on six histograms information in one table. In the "growth" indicates the advantage of Core i7-6700K compared with Core i7-4790K – immediate precursor that can actually run on a slightly higher frequency. The given if the test results are close to the truth, the games will be measured Skylake advantage of a few percent. By the way, as a partner for processors authors test was not chosen the latest video card GeForce GTX 780. In short, it is too early to draw final conclusions, but expect from Skylake breakthrough in performance it is necessary to prepare ourselves and to the negative scenario.
Source: WCCFTech
Intel Skylake: preliminary data on the speed of processor
updated:
April 28, 2015
author: