Intel is preparing to launch 14-nm processors Broadwell-E for the first quarter 2016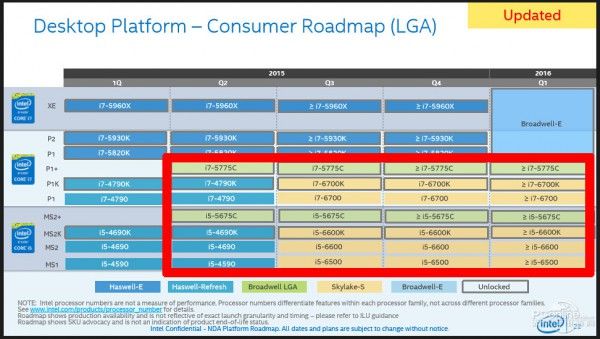 According to the updated roadmap of Intel, the first LGA-version processor family Broadwell should start in the second quarter of this year, while the generation of chips Skylake-S will appear on the market in the third quarter. Published by the Chinese edition of PC Online slide shows that the first two CPU Broadwell for desktop segment will become a model Core i7-5775C and Core i5-5675C, and already since July can expect from Intel Announced Skylake-S – Core i7-6700K, Core i7-6700, Core i5-6600K, Core i5-6600 and Core i5-6500.
According to published data, the processors Skylake-S and Broadwell in LGA-performance replace the market model generation Haswell, including representatives of the series Devil's Canyon. Thus CPU Broadwell class higher than Skylake-S. Already since the fourth quarter of this year, we will witness the launch of many more models Broadwell LGA, but their designation as long as they remain a mystery. Already in the first quarter of 2016 sales should start brand new processors Skylake-S.
Continuing the conversation about Intel's plans for 2016, the first quarter of the American giant is also preparing to release processors generation Broadwell-E. So far about these updates very little is known, however, it reported that representatives of the future 14-nm line will get a top up to eight cores. Operating frequency chip is also not yet been established, but the transition to 14 nm promises a good performance gain.
Intel is preparing to launch 14-nm processors Broadwell-E for the first quarter 2016
updated:
May 5, 2015
author: