Acer Chromebook 14 will provide 14 hours of continuous work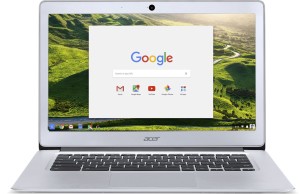 Acer introduced a new Chromebook 14 for Work – Chromebook with Intel Core processors of 6th generation. It is corresponding to the high requirements of large enterprises, government and other organizations. Chromebook 14 for Work from Acer differ its performance and function on battery power about 12 hours. It is also the world's first laptop with Vibrant Corning Gorilla Glass.
  Besides, this multipurpose device has a strong construction that has withstood hard testing and matches to USA military standard MIL-STD 810G. During the test for accordance to the military technical conditions Chromebook 14 was tested for strength and durability of the 8 parameters. This parameters consist of falling from a height of 122 cm, the impact of high and low temperature and other impacts of ambients. In addition, Chromebook 14 for Work stands out its highly business-class security and controllability.
  "The clients from different large enterprises, commercial organizations and government agencies have many reasons to give preference to the new Chromebook 14 for Work of Acer, said Jerry Howe, general head of Acer commercial laptops. – Thanks to the extremely hard construction, which corresponds to the military norms, organizations get a dependable product, that can be employed in a diversity of circumstances and climatic zones. Simultaneously, the best computing power will contribute to productive work of  the employees. "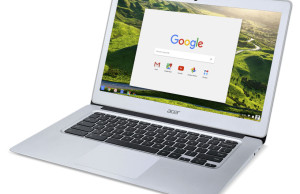 The construction of a large 14-inch display is placed in the body frame, which is usually designed for 13-inch displays. It permitted to do a thin frame and decrease the overall dimensions of the appliance. So, the dimensions of Chromebook 14 are 330.9 x 227 x 22.4 mm (W x D x H) and weight – 1.45 kg.
  Chromebook is equippable with one of two kinds of displays: with a resolution of Full HD (1920 x 1080) or HD (1366 x 768). Both distinctly display text and graphics images, and have a wide angle of viewing (170 angle degrees). Due to the anti-glare display ComfyView working with the Chromebook 14 for Work the eyes will be less tired.
  This universal appliance fitted with 720p web camera (1280 x 720). It is possible to note down audio and video HD standard. The webcam lets you create HDR images and a wide angle of viewing . Also, the device has a inbuilt digital microphone and two stereodynamics.
  Chrome OS operating system is automatically renewed and protected against constantly evolving online dangers, such as software viruses and scumware. Acer Chromebook settings and controls are intuitive and effective. In addition, using the Web system Chrome Device Management permits you to remotely manage applications of all available network device in the Chrome.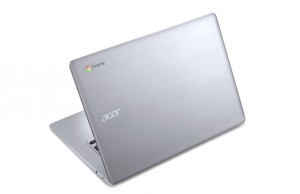 The extraordinary device is equipped with the inbuilt Trusted Platform Module solution to protect your different kinds of data. Also, you can use chargeless Google disc with the storage capacity of 100 GB. It guarantee access to the recent version of a file, even on the chance of loss or theft of the Chromebook.
  Chromebook 14 has USB 3.0 Type-C port for fast transference of different kinds of data at speeds about 5 Gb/s. Besides, it can be employed as a accumulator for the Chromebook or accumulate other external devices from this multipurpose appliance. Using the HDMI port, you can transfer a Chromebook HD video and audio to an external display.
  To expand the opportunities Chromebook 14 for Work clients can connect it to the USB-Type-C dock-station from Acer with a single cable turn the device into a mighty workstation. The dock-station has a compact dimensions and supports high-speed data, video and audio. The station also provides instantaneous connection to other displays and devices.
  Acer Chromebook 14 for Work will go on sale in May. This novelty is positioned as a device for the corporate segment. It's unknown if the new product will be proposed in the consumer market.
Acer Chromebook 14 will provide 14 hours of continuous work
updated:
April 29, 2016
author: